Good acoustics are both heard and seen
Acoustic panels dampen or divert sounds and reverberations born in the space. The acoustic features of interior cladding panels are especially important in public spaces such as lobbies, conference rooms and concert halls. In these kinds of spaces, design and acoustics must walk hand in hand.
Acoustic perforations and grooves are key when creating spaces that are top-tier both acoustically and aesthetically. The number and shape of the perforations depends on the demands of the target space. The noise dampening felt installed behind the panels finishes the perfect soundscape.
Better acoustics for different spaces
Acoustic perforations can be performed on veneered, HPL or painted cladding panels. This allows us to create better acoustics in a multitude of ways and in many different spaces. In addition to achieving the desired acoustic features, the shape and positioning of the perforations can also be used to create interesting visual effects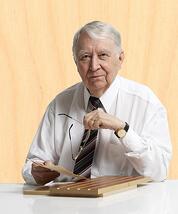 "Good acoustics can be heard, but they must also be visible. The wide range of veneer options means that Puucomp's acoustic panels can create different visual moods according to the requirements of the target space. And through the meticulous design of acoustic perforations, we ensure that the space sounds exactly as it should."
Alpo Halme, Architect, acoustics specialist, PhD.
Take a look at the different acoustic perforation options!
Example perforation: S620 – click on the image and you will see other options!